Business Desk – Peter Bale – April 25, 2021
Media magnate Rupert Murdoch is a keen sailor and has owned sailing superyachts, as has Oracle founder Larry Ellison. The world's richest person, Amazon founder Jeff Bezos, is building a giant yacht; its details are being kept under wraps but it's known the masts are under construction in Avondale, Auckland.
Those who build yachts that stretch the limits of physics, not to mention budgets and taste, say it takes a particular kind of person to commission one.
"People who go for big sailing yachts are usually successful business guys… people who have been running highly technical companies or set them up. They appreciate engineering development and beauty and are unafraid to innovate," says Damon Roberts, who has rigged three of the world's largest sailing superyachts, including the 88-metre-long Maltese Falcon.
Owners can choose super-sophisticated yachts with carbon-fibre masts, vast furling sails, and in the era of the America's Cup AC75, foils to reduce drag.
Others prefer something traditional – perhaps a restored 1930s J-Class from the time the America's Cup was contested between the likes of tea baron Sir Thomas Lipton and US railways multimillionaire Harold Vanderbilt.
"To do these sorts of yachts we need owners with passion and vision who want to do things differently," says Gordon Kay, whose Infiniti Yachts company makes a foiling system.
New Zealand has a big role in sailing superyachts, whether through designers such as Ron Holland, builders such as Alloy Yachts or mast-builder and rigger Southern Spars.
In the foreword to a book about Ron Holland, Rupert Murdoch explains that it's a particular sort who wants a yacht: "Many people think of sailing as a leisurely activity with endless sunbathing and cocktails on deck, but big yachts are extremely powerful, and you've got to know what you're doing. Even experienced yachtsmen can run into trouble."
A motor yacht doesn't heel over 30 degrees in strong winds, and you seldom get wet.
"We find that people who buy yachts are passionate about being in the environment," says Paul MacDonald, head of superyacht sales for Southern Spars. "Typically, in a yacht you are a lot closer to the water. These people have an interest in being more connected to the water and the environment. In a motor yacht you are three storeys up and you could be in a hotel foyer."
As with all superyachts, it's hard to find out who owns what. Everyone is discreet. Southern Spars declined to confirm or deny anything about the Bezos project.
Foils as a secret weapon
Foils are emerging in superyachts. Infiniti Yachts offers DSS (dynamic stability system) – a horizontal wing. At the press of a button it slides from the hull to leeward (away from the wind), giving lift and dramatically reducing heeling (leaning) and pitching (forward and back motion). It gives stability that would otherwise require a much heavier keel.
"It's also almost invisible to others until it's deployed. It's all below the water — it's hidden away like a secret weapon," says Kay.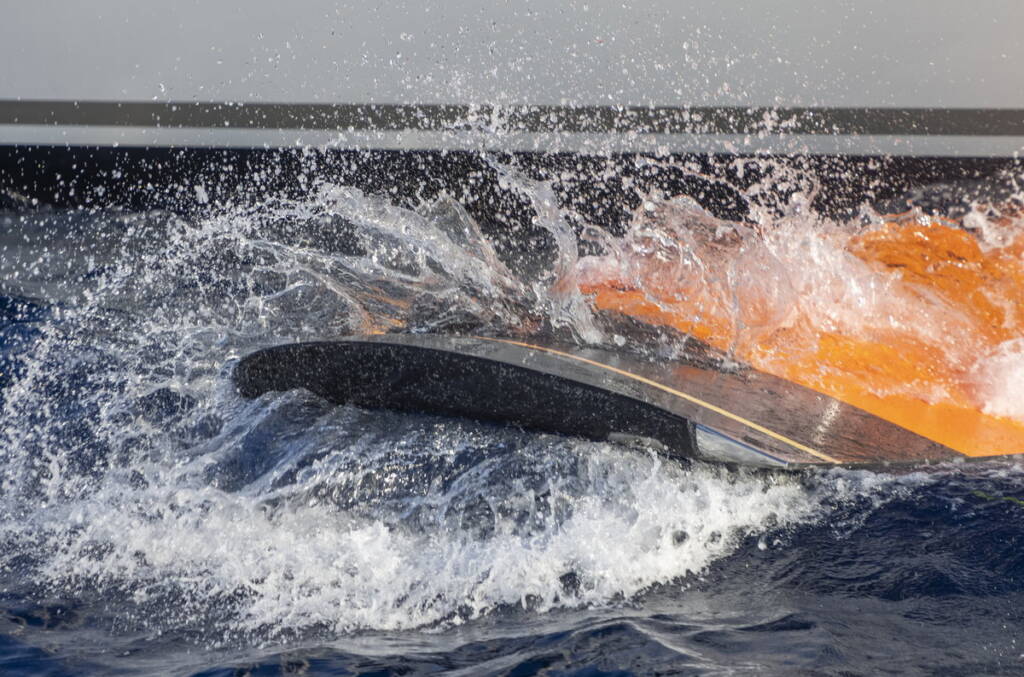 DSS is on a 43-metre yacht, Canova, built by Baltic Yachts in Finland for Italian businessman Dario Segre. (Kay declined to confirm the owner but it is reported elsewhere.) Canova was designed by Farr Yacht Design – founded by New Zealander Bruce Farr – and was named Superyacht of the Year in 2020.
Swedish businessman Jan-Eric Österlund, former owner of the 54-metre sailing superyacht Adèle, was invited by Segre to go sailing on the Canova and later wrote about how its DSS worked: "This is a stabiliser fin that can extend nine metres out on the leeward side of the yacht and increase her righting moment, thereby either making it possible to carry more sail or raising her up in a more horizontal position."
He described why an owner might want DSS: "Dario explained that he designed it to help his wife, Chiara, feel comfortable… We were having a lunch while sailing from Corsica to Italy and struggled with holding our plates, and when the captain deployed the DSS fin, Canova suddenly raised up and we could move around the deck as if it was a dance floor… The lunch became a real pleasure instead of a struggle."
Kay says nautical architects can be conservative so it's vital to have owners who want to innovate: "In the world of superyachts, it's a work of supreme unintelligence not to put this [DSS] in your yacht. It's like saying I don't want ABS, turbo and active comfort in a car."
Visit https://businessdesk.co.nz/article/the-life/sailing-superyachts-the-ultimate-yacht-for-super-rich-adventurers to read the full article.