[Original article: https://www.yachtinternational.com/yachts/news/baltic-142-foiling-superyacht-canova-sea-trials–35361]
---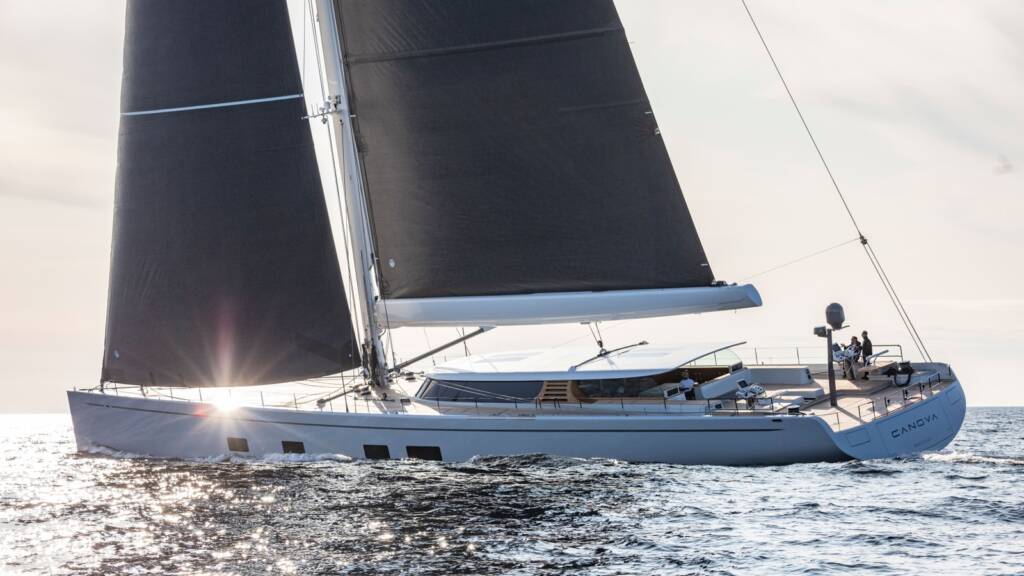 Finnish yard Baltic Yachts has released first-look images inside its recently delivered 43.3 metre Baltic 142 Custom sailing yacht Canova.
The yacht was delivered following the completion of successful sea trials off the coast of Finland on October 20.
The yard said the Lucio Micheletti-designed interior had recently received its "finishing touches" and described it as "a study in understated interior design with white bulkhead panelling and deckheads combining with teak timber veneers."
It comes after the yard put the innovative DSS foiling technology through its paces during sea trials. Baltic released a video showing the nine metre "long sliding foil" in action and reported a good performance under sail.
"As the speed increases, the heel angle of the yacht reduces, no other system can do this. When the foil is deployed it extends 22ft (6.5m) to leeward," it said.
The yard also reported testing the foil upwind in winds of 20-25 knots, which "proved itself faster and with much less heel".
Canova, a sloop-rigged performance cruising yacht, features naval architecture and exterior styling by Farr Yacht Design while Lucio Micheletti collaborated with the in-house team at Baltic Yachts on the interior styling.
Canova stands out for being the first yacht of her size to be fitted with the DSS foil, which is designed to improve comfort and performance capabilities.
Canova features this innovative use of sailing technology, specifically its dynamic stability system. Developed in collaboration with Gordon Kay from Infiniti Performance Yachts, the system employs a sliding foil that can extend up to nine metres. This feature has featured on smaller yachts, but this is the first time it will be employed on a large sailing superyacht.
The foil has been designed to be deployed when the yacht is sailing at speed. The estimated result is a top speed increase of 5 to 20 per cent, depending on the conditions. The foil runs directly beneath the owner's cabin amidships.
During Canova's first sailing sea trials, the push-button deployment of the nine metre long foil was reported as being "faultless" and she showed a reduction in heel and pitching motion in stronger wind conditions.
Gordon Kay of Infiniti Yachts previously said, "Having installed DSS in dozens of yachts we can confidently say we have reached another level with the impeccable installation of the foil case in the Baltic 142 Canova".
Vice president at Farr Yacht Design Britton Ward added: "The predicted performance numbers are remarkable with the yacht able to comfortably achieve yacht speeds equal to wind speed in moderate to strong conditions".
To make the most of her performance, Canova has an extremely powerful rig and sail plan. A squaretop mainsail with a 3.5m long horizontal batten pushes the mainsail area up to 570 square metres, and her Her J1 adds another 390 square metres. All sails are by North Sails, while her all-carbon rig is by Rondal. The latter utilises Carbo-Link standing rigging, which is specifically designed to handle the increased loads generated by the additional stability delivered by the DSS foil.
Accommodation is for up to eight guests split across four cabins including an amidships owner's suite. A long Bimini hardtop will extend out from the coachroof over the cockpit, providing a shaded al fresco relaxation spot and powered windows that lower at the touch of a button will provide further shelter in this area.
Other key features include a diesel electric Visedo/Cummins propulsion system, nine metre beam and a lifting keel that can reduce the draught from 6.5 metres to 3.8 metres.
Also put to the test during the sea trials on Canova was her innovative diesel electric propulsion and hydro-generating system. Both have been proven to substantially reduce noise and vibration while she is under power. The yard has reported that "during motoring trials the electric propulsion system was barely audible aboard the yacht."
Canova can use her propeller as a hydro-generator via the electric motor, which then charges her six banks of Lithium ion batteries.
The compact and quiet 420kW electric motor is able to drive the 145-ton yacht at a speed of 14 knots via her rotating, forward-facing, pull propeller, says Mattia Belleri of fluidsailing, who has project managed the design and build of Canova for her owner.
"The preliminary numbers are promising and we are confident fine tuning will deliver the performance we are expecting," says Kim Kolam, Senior Electrical Engineer at Baltic Yachts.