[et_pb_section fb_built="1″ _builder_version="3.22.3″][et_pb_row _builder_version="3.25″ background_size="initial" background_position="top_left" background_repeat="repeat"][et_pb_column type="4_4″ _builder_version="3.25″ custom_padding="|||" custom_padding__hover="|||"][et_pb_text _builder_version="3.25.4″ background_size="initial" background_position="top_left" background_repeat="repeat"]

[Original article: https://sailinganarchy.com/2019/07/24/mighty-mite/]
---
In the end, it was all about the finish. After three days of racing neck and neck with the Botin 65 Caro, the last few hours saw us come from behind to cross just 39 seconds ahead of them. Boatspeed in the low 20's, an A2 far beyond its design wind range or angle with a widening hole from a previous repair, and a diminishing amount of track to run all made for an exhilarating ride that none of us will forget. In those conditions we were always going to be faster, but fast enough to edge in front before the finish line? That was the tricky bit.
For the old timers – and there comes a time when one must recognize the unfortunate truth – it can be hard to hand over the wheel to the kids, but Dave Gilmour did an awesome job. Given free rein by the owner Q, he drove it like he stole it. And that's the rule rather than the exception with an owner who completely embraces the "Maverick" philosophy of the aptly named Infiniti 46. The finish topped a fantastic race for us. We did not win and we did not achieve all the goals we set out to, but we learned a lot and the next time Maverick enters this fantastic race we will be wiser and smarter.
We did not optimise the yacht for the race, other than build an R1 with Doyle NZ which was invaluable, particularly when the synoptic breeze moved offshore after the start and we spent a day ghosting away from the coast. We have conservative spinnaker areas and the yacht is still very much in IRC trim from the more varied courses such as Fastnet and Middle Sea Race.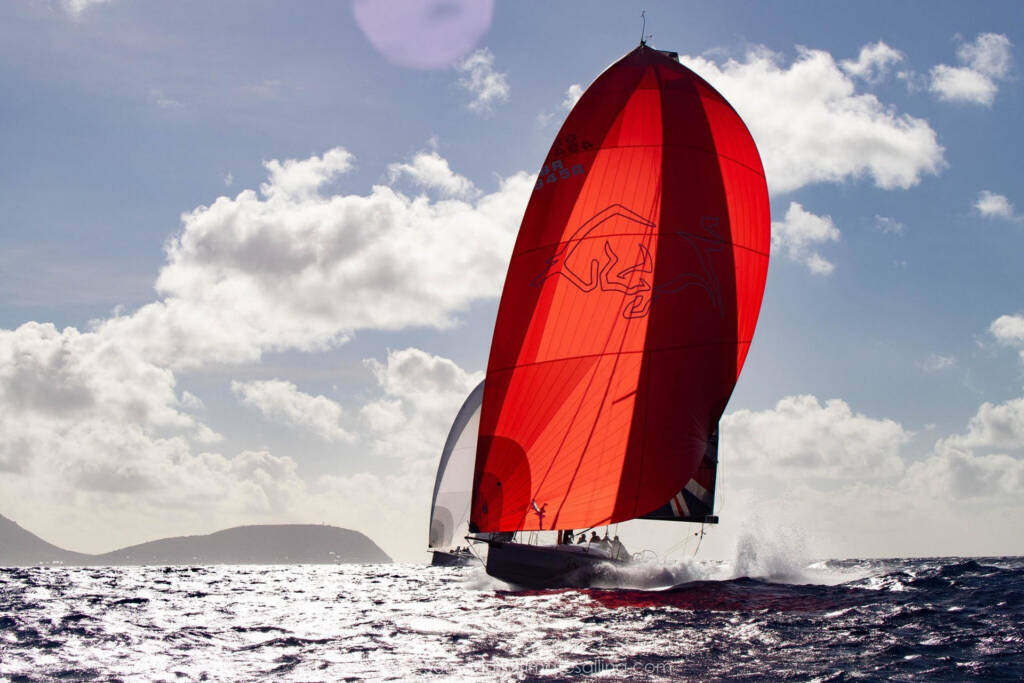 So what did we learn? Firstly, it might be warm and downwind but it's by no means a "point and shoot". The comprehensive navigational tutorials of Stan Honey do a very good job of explaining the subtleties of the race and where it can be won and lost. We had excellent support from Will Oxley prior to the start but if we ran our race again, we would undoubtedly have done a few things differently and as we learned more about the yacht and how she goes downwind we would have made some other calls.

All invaluable as we continue to learn what makes this rocket tick. The Dynamic Stability System (DSS) makes for an interesting VMG discussion – we know that the yacht is quicker with the foils VMG downwind – something which is never really shown in the design process but which is seen on the water– the question is the crossover. What we found, and talking to other competitors we were not alone, is that the wind at the mast head rarely reflected the wind we experienced. It just felt as though the wind was layered and, being a small yacht with a short rig, we felt this keenly compared to our main competition. On different occasions our yachtspeed could be 2-3 knots different with the same numbers reading on the wind instruments. Of course this throws out the polars, routing etc.

The Maverick has stages of speed jump from hull speed to planing to foil assisted to full foiling (not flying) and these jumps are significant, a couple of knots at a time. Putting this into perspective, with just a few knots of wind change we could be cruising at 12 knots or 18 knots which makes quite a difference to our mental health!!

The tactical part of the race is very interesting, made more so by the extra speed options one has relative to more traditional designs, but the basics still apply – pressure is always good, get too close to the high and do an "Icarus" and it's all over before it begins. As newbies we did our homework and did not disgrace ourselves but we are definitely much wiser for next time. And there will be a next time!

The race is shorter than a Transatlantic and with reliable conditions usually takes significantly less time, and the welcome is fantastic. Ocean racing has nuances, experiences and emotions that you simply don't get on a coastal or harbour races. The "digital detox" is an additional bonus in a world where it's ever harder to get away from it all and for that alone it's worth doing. The full moon, the lack of light pollution, sailing downwind in shorts at over 20 knots hour after hour with good mates; it's tough to beat that.

After a few years in the Mediterranean where Maverick twice had first in class in the Middle Sea Race, 1st in class in the RORC TransAtlantic and a shocker in the Fastnet, she then went to race Newport to Bermuda where she was put into a class of two….. but like the TransPac she was again fastest yacht under 50ft. We then had an overall win in the SoCal 300 in preparation for the TransPac, and we wish we'd had more time to do more of the West Coast Races.

She now makes her way to Sydney and prepares for the Sydney to Hobart and more adventures. This was our first Transpac; it will certainly not be our last.

Maverick, Infiniti 46: "1st yacht under 50ft" trophy, 2nd in class.

Gordon J.W. Kay

[/et_pb_text][/et_pb_column][/et_pb_row][/et_pb_section]